LiteSafe Composite LPG Cylinders
LiteSafe Cylinders are superior alternatives to traditionally used metal cylinders. These cylinders are extremely lightweight, attractive in colour and shape, rust and corrosion proof, UV resistant and most importantly are 100% explosion proof. LiteSafe Cylinders are first of its kind to be manufactured in the Asian continent.
The Technology that ensures Safety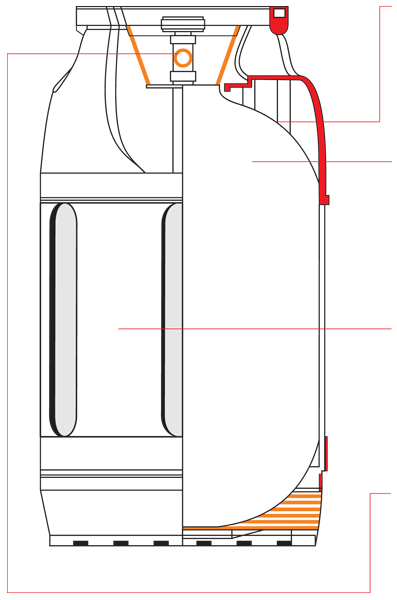 Fibre Glass Composite Layer
Composite material of fiber helically woven & combined with resin provides unmatched combination of high tensile strength, lightweight and UV resistance.

Gas Tight Inliner
Inner container is made of polyethylene (PE) and is treated with special resin & chemicals to provide excellent anti-permeation property.

Outer Casing
Heavy-duty PE casing to suit rough handling and logistics. Attractive design to provide space for branding unlike metal cylinders. Customized colour combination can be to suit client's need.

Universal Boss
Universal boss is made of steel, so it is insulated against wear & tear on any number of screwing / unscrewing operation of brass valve. New 'O' ring material suited for -65°c and +200°c. Time proven universal taper profile threads suitable for most valve type.